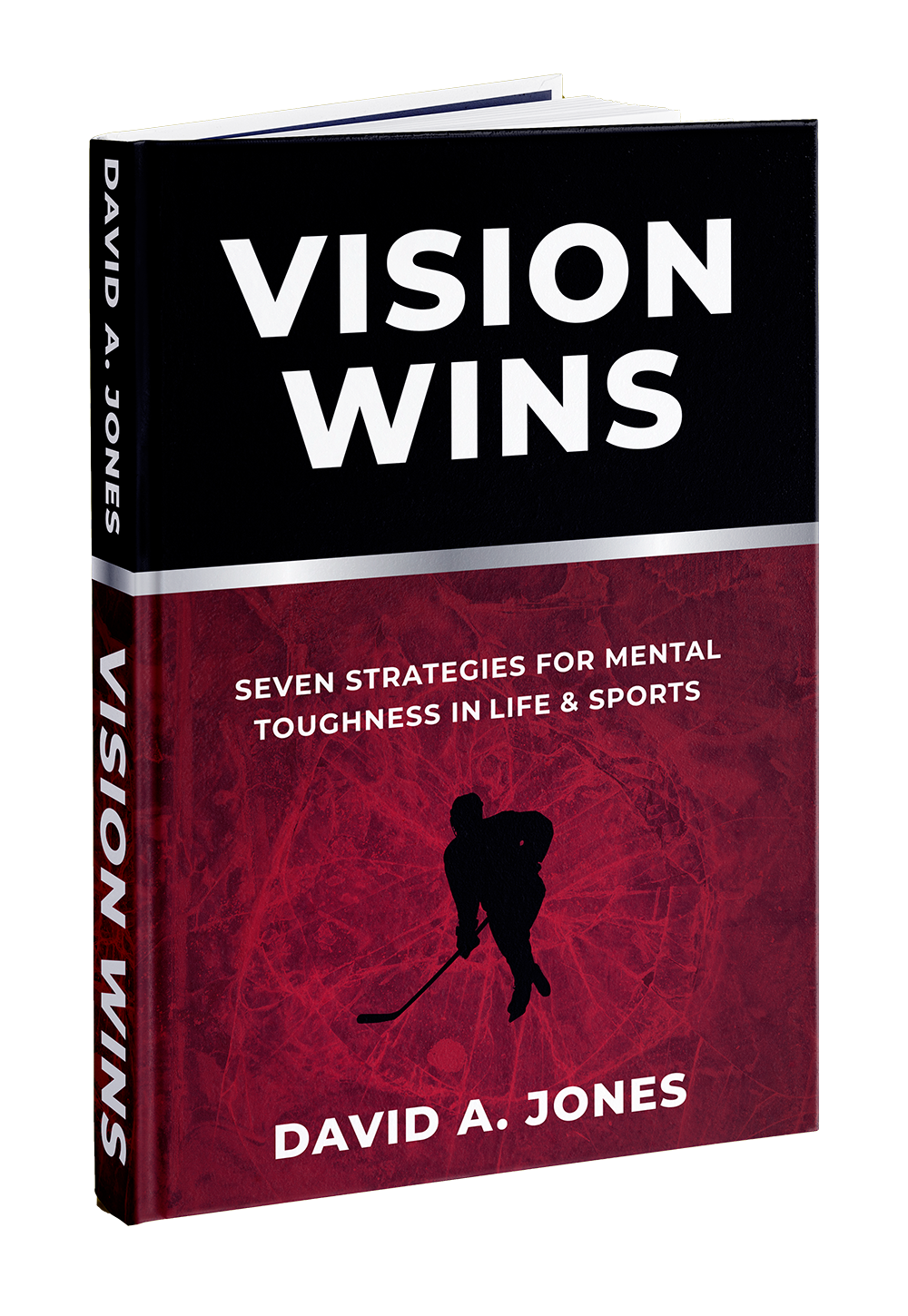 Vision Wins
Join Kelly and Elliott as they navigate their hockey careers, build their sense of purpose, and learn life-long lessons.
"Wherever you are in life, and no matter what work you do, your path will be only as strong as your vision"

Glen Wesley

Former NHL and 2006 Stanley Cup Winner with the Carolina Hurricanes
"Dave really inspired me with the book! I loved the story of Kelly and Elliot, their faith walk and how vision can win when you apply it to your life. A must read for Coaches Athletes and all believers"

Rick Randazzo

Founder of FCA Hockey
"Dave is following in the masters' footsteps, using an engaging story of two young athletes and their mentors to teach important lessons about life and faith"

Brian Dench

FCA Board Member
"I have seen first hand how important Vision and how having a plan is essential for winning. It took me less than 4 hours to read this book, I couldn't put it down. I was inspired by the principles of R7 and goes to show how a simple process can make such a big impact in your personal life and business"

Ron Kuhl

Founder of the Hockey Hut
"This book was very inspirational to me, I really loved the mental toughness aspect for our athletes but also think it was an outstanding book for people looking for the next phase of their lives, everyone between the ages of 25-40 should read this book"

Kirk Handy

Liberty University Head Coach and AD for Club Sports
"I'm always looking for well-written business books that share how to better infuse my Christian principles into my day to day work. Vision Wins was just the read for that! As a hockey fan, I loved the story and while each character was special, I really loved the strength shown by Kelly in her support of Elliott. Be warned! You won't know what's coming as you follow Kelly and Elliott's R7 journey, but prepare to be moved and motivated to bring to life your God-given vision."

Bailey Eldridge

Servevita Holdings Managing Director
"As a former collegiate hockey player, I was inspired by the book and how simple R7 can impact your life and give you direction for the next phase of sporting and personal career"

Josh Hamilton

Former Liberty Hockey Player
What Our People Are Saying
If you're doing what you love you're going to be better at everything that you do.
If there's one thing I can't stand it's a bunch of touchy, feely, self-actualization bunk. Well, Dave and M is Good are surely not that. Though they do help you uncover new and uncommon insights about yourself, it is done in a respectful, rigorous and systematic way.
Joe Schmidt, Founder | Canvas On Demand & Audacity Factory
The biggest impact for me through this process was just having clarity and being able to have focus and priority and be much more productive in areas that really mattered.
Troy Henry, Owner | PureMix Audio-Visual
I want to thank Dave Jones with M is Good for taking me through the (R7) process. He helped me realize my passions and create my vision around those passions using my personality strengths while at the same time knowing how to avoid letting my tendencies slow my progress towards success.
Jesse Boulerice, Former Player | Carolina Hurricanes
Dave Jones helped me to get focused on the priorities and the things that are really important. It made me really understand why I had a passion in certain areas.
I have more focus with all my passions - serving the community. I'm able to communicate what I'm here to do, and it's been great because I don't have to waste my time doing things that are not necessary for me.
You know the Reset Process for me, honestly, it just woke me up... It was an awakening.
It's a nice feeling when you wake up in the morning and know exactly what you want to do with your life. It gives you that kind of passion, that kind of energy, that I've been waiting for and I've been searching for.
The biggest impact for me through this process was just having clarity and being able to have focus and priority and be much more productive in areas that really mattered.
My heart is full this morning. That's the only word that I know how to use to describe what I'm feeling…full of hope, full of excitement…very alive – today is kind of like its own little freedom adventure. I love it! I'm looking forward to more days with a heart full of purpose and destiny.
For me, it means freedom... the freedom to be who I am all the time.
I have enough pieces now to move ahead, with confidence, without the fear, knowing that the possibilities are unlimited.
It was really the key for me to find my peace in life. My life will never be the same. I have clarity and purpose now.
What I got was the quickest, most powerful way of coming to the "why" in my life.
Once I hit [the Reset Button] it really gave me new life, and it gave me a sense of purpose.
I found my vision. It reset where I wanted to go and how I want to be influential in the second part of my life. None of this would have been possible without Reset.
Becoming a Reset Specialist makes me optimistic about the future and gives specific direction on where to place my energy. It reassures me that I'm being proactive in my own life and that I'm taking control over the process to help others as well through teaching. Lastly, the process has allowed me to take my blinders off and be part of something bigger than myself, opening my eyes to be able to see more of the amazing world all around me.
The r7 experience was an adventure. I call it an adventure because I took a journey into my heart and soul to evaluate why I do what I do. Reset tools rekindled the flames in my heart that motivate me to be a designer in the present to build a better tomorrow. I appreciate the process and the reflection that continues today in my journey to transform negative mindsets, build constructive goals and connect people to build a better community. I am grateful for The r7 process.
Pat Teague-Former NFL Linebacker | Cleveland Browns