Worship Tutorials exists to equip and inspire worship leaders and musicians through tutorials, reviews, song videos, loops, and more.
Worship Tutorials was in need of a website that could maximize its search engine rankings & successfully generate sales. They also wanted help marketing to their 200,000 YouTube subscribers & organizing marketing campaigns for new products.
M is Good developed a website, marketing strategy, and brand messaging that shifts the lens to provide value and refocus on the consumer, and their needs. Since then, we have been working with Worship Tutorials to maintain and optimize their WordPress website and update messaging that solves problems for their ideal customers. With M is Good!, Worship Tutorials' sales improved, and their social media presence grew; their YouTube channel has grown to over 600,000 subscribers. M is Good! has been a dedicated, long-term partner with Worship Tutorials, and we continue to collaborate and optimize their marketing strategy by monitoring key performance indicators (KPIs) and having marketing huddles.
Worship Tutorials with M is Good
.
BRAND MESSAGING
As worship leaders, we're doing something more than just entertaining and playing a song to the best of our abilities. When the performance is over and the crowd goes home, our job is just beginning. 
Organizing our teams, preparing for rehearsals, managing emotions, containing drama, and leading our worship team are all part of our role as worship leaders. There are musicians to recruit, schedules to keep, projects to manage, leadership meetings to attend and perhaps lead, songs to prepare, tasks to delegate, equipment to fix, teams to manage, songs to practice. On top of it all, there is the primary need for consistent, authentic, and excellent worship.
Just reading this list is overwhelming, stressful, and has the potential to steal our joy. 
So, we desperately need a plan to lead our worship teams better. We need a plan to help us organize, manage expectations, lead ourselves and our teams well. We need a plan so that we can approach our relationships with our pastor, church leadership, and staff members with a positive uplifting spirit filled with authenticity, vision, gratitude, and appreciation. Burnout, disliking ourselves, our pastor and our fellow worship team, and family members are not an option.
It's our vision to inspire you and your team around you with the most authentic and excellent worship guidelines and tools. You can become the most effective and authentic worship leader on the planet, but you will need to invest in leadership tools and training to succeed.
Worship Tutorials and our new Worship manual are here to equip you. We want to inspire and equip you to become the best version of yourself, by leading with authentic and excellent worship across your team(s) and church, we are so excited for you to hear the words well done good and faithful servant.
WEBSITE & SOCIAL MEDIA CREATIVE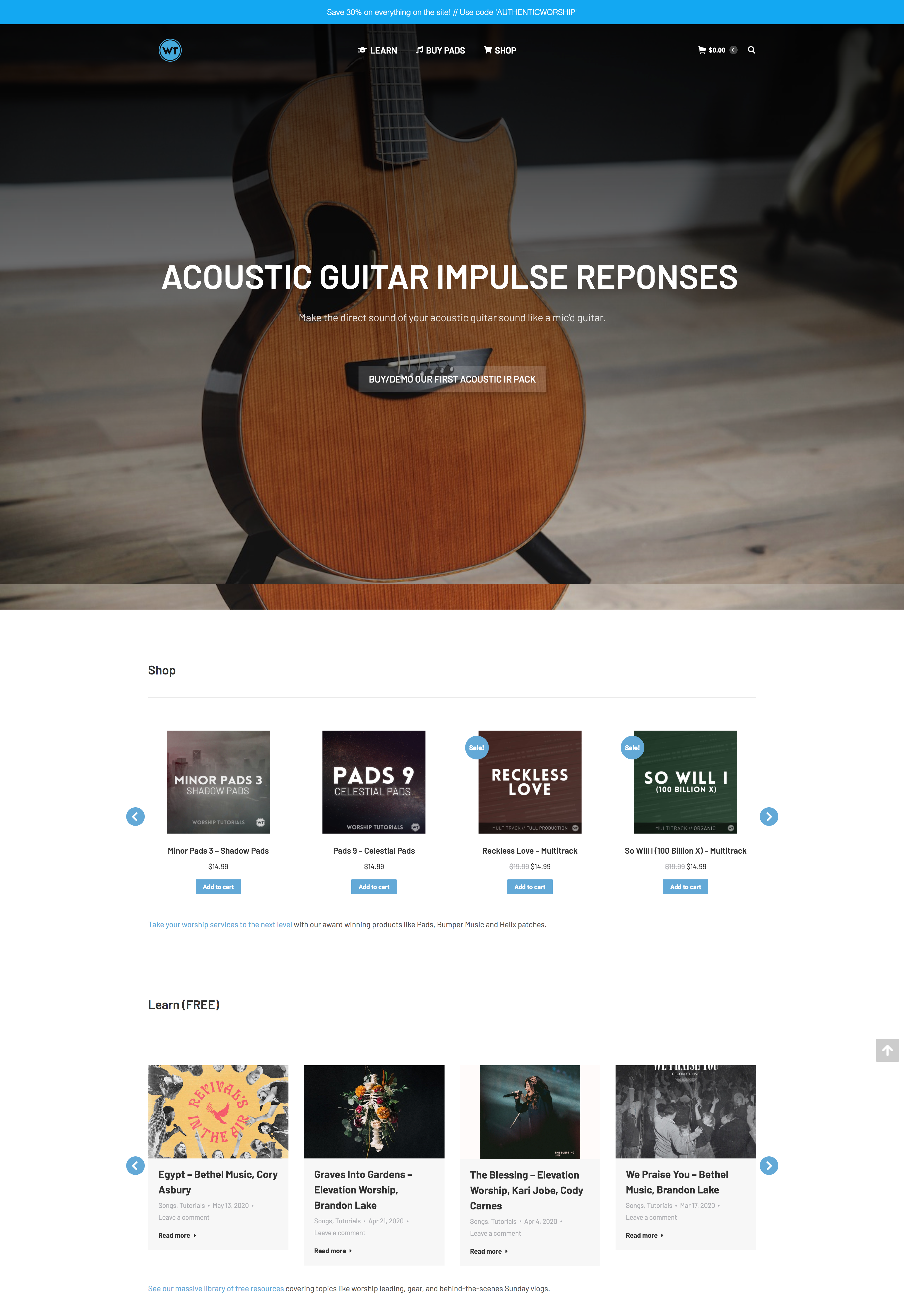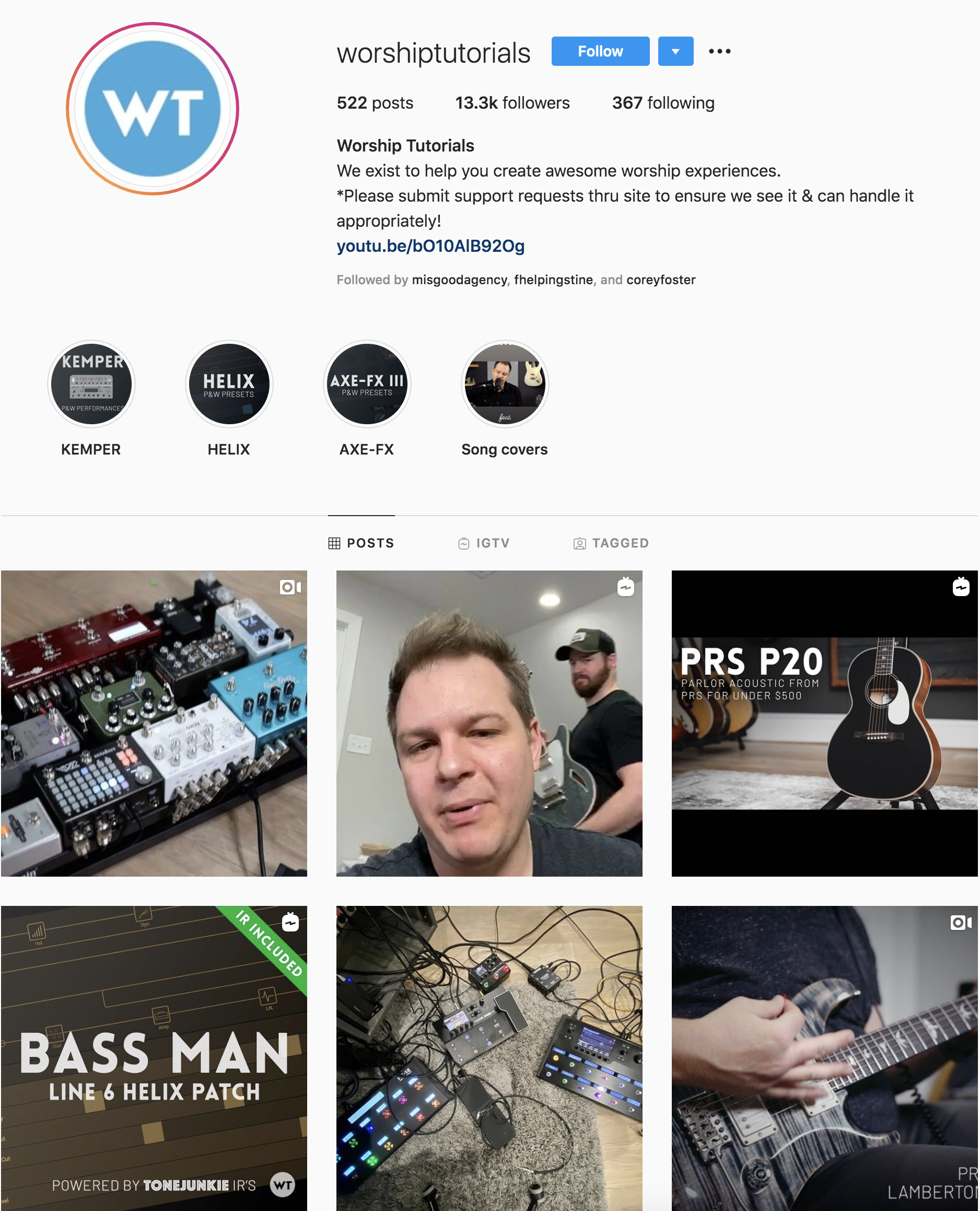 M is Good! has been a dedicated, long-term partner with Worship Tutorials, and helped create a clear and unified vision statement for where the company was going and why. The vision reflected the founder's core value for authentic worship, and that value is ingrained in the brand and messaging
throughout all their touchpoints.
INTANGIBLES
• Increased clarity of company vision.
• Successfully created and implemented digital marketing campaigns to reach new customers in the target market
• Improved customer experience with site restructure
Increase in e-commerce orders from 2017 to 2020
Increase in impressions from 2017 to 2020
Increase in revenue from 2017 to 2020.
Increase in clicks from 2017 to 2020
The R7 Process has helped hundreds of clients
achieve their goals…
will you be next?

Let's chat.
CLICK HERE AND FILL OUT THE FORM ON THE NEXT PAGE TO GET STARTED.